Until the Curtain Falls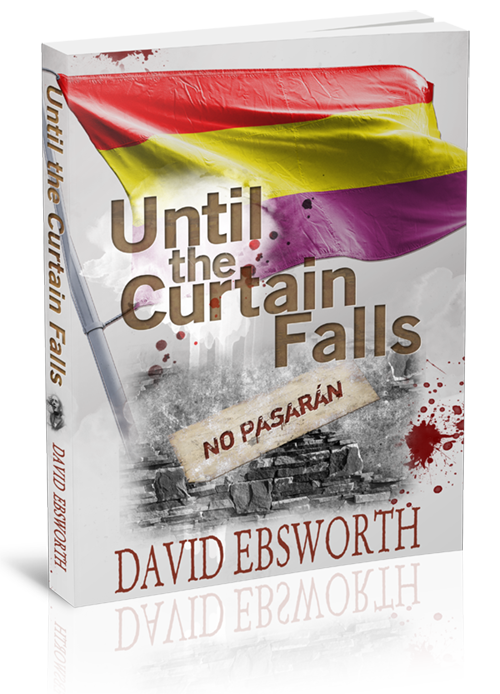 In his sixth novel, a sequel to The Assassin's Mark, David Ebsworth continues the story of journalist Jack Telford in the closing months of the Spanish Civil War.
"A cracking, finely paced story. Terrific detail." (Elizabeth Buchan, bestselling author of Consider the Lily, I Can't Begin to Tell You and The New Mrs Clifton)
"Until the Curtain Falls confirms David Ebsworth's reputation as a first-rate story teller." (Dr David Mathieson, author of Frontline Madrid)"
The Latest Book By Author David Ebsworth
La versión castellana de Hasta Que Caiga el Telón
está ahora disponible.
Don't take my word for It
"Superb! David Ebsworth has really brought these dramatic events to life. His description of the fighting is particularly vivid and compelling."
Praise from Andrew W. Field, author of
Waterloo: The French Perspective and its companion volume, Prelude to Waterloo: Quatre Bras
"This is an excellent piece of writing and I found myself really wanting Marianne and Liberte to survive and succeed in their dreams."
Praise from J.Tift, Review for
Marianne Tambour on Amazon
" It is brilliantly put together, with mystery and thought provoking elements all combined with some humour and great history."
About The Author
David Ebsworth Tells Stories
Stories from history that he wishes somebody else had already written
but which seem to have been overlooked, until now!
Featured Reading About Times Past ~ from The Blog
Marianne Tambour – the Music
I hope that there are sections of The Last Campaign of Marianne Tambour that readers can "hear" as they turn the pages, and particularly those that detail some of the French Napoleonic army's music. Singing and band music were an integral part of army life, so here we have some of the tunes, the songs, the drum and trumpet calls that would have been everyday sounds for the Emperor's soldiers. Continue Reading
The Jack Telford Story
Spoiler Alert: Read 'The Assassin's Mark'? For anybody interested in what happened to Jack after his adventures in Spain, here is the transcript of his appearance on Desert Island Discs, a programme first broadcast on Sunday 8th September 1979. Continue Reading
The Kraals of Ulundi and the Nelson Mandela Link
In November 2013, I was able to make the trip to KwaZulu-Natal in South Africa to check out the locations for book number three, The Kraals of Ulundi: a Novel of the Zulu War. A few days after return to the UK, came the news of Nelson Mandela's death – and I was asked whether there was a direct link between this desperately sad event and the story of the Zulu people that I've set down in Kraals. Continue Reading
Propaganda in the Spanish Civil War
At the beginning of December 1938, Victoria Station, in London, saw the strange sight of an army returning from war. Thousands of people waited for the train from Newhaven and the disembarkation of 305 volunteers from the British Battalion of the International Brigade... Continue Reading
Join The Inner Circle
receive free chapters and author updates