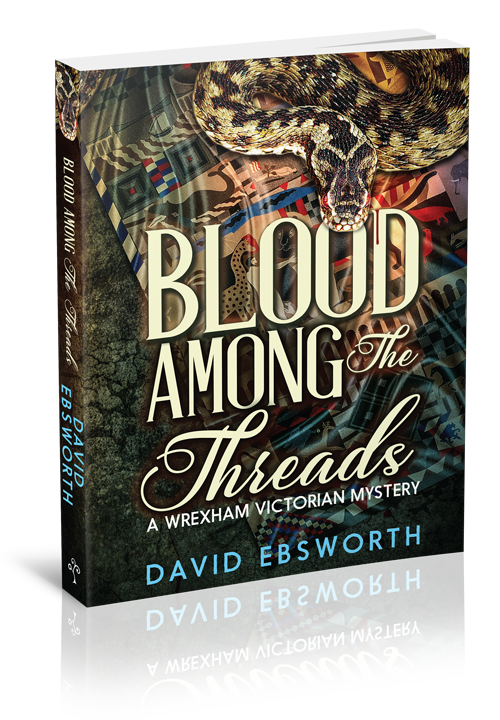 This, my twelfth novel, is a not-so-cosy crime story set during the annus mirabilis – the "Year of Wonder" – for the North Wales town of Wrexham.
Read the blurb…
Wrexham, 1876. Meet Alfred Neobard Palmer, an unlikely hero. "It was a death which had brought him here. Death by snake venom, of all things." Palmer – and his more courageous sweetheart, young Ettie Francis. A series of accidental deaths which increasingly seem – well, more than simply accidental. Deaths luring Palmer and Ettie, slowly but surely, towards a terrifying climax through the treacherous waters of the North Wales coast. But can those deaths truly be linked to the huge coverlet on display at Wrexham's magnificent Art Treasures Exhibition? A patchwork of images both biblical and bewitching. And is there, literally, blood among the coverlet's threads? A glittering mystery by award-winning author David Ebsworth.
For all lovers of historical crime novels!
Already highly acclaimed, this is a cracking good mystery. Plenty of other surprises for readers too.
"David Ebsworth, a terrific storyteller, his passion for his subject and his characters grabs you by the throat." (Elizabeth Buchan, bestselling author of The The Museum of Broken Promises, The New Mrs Clifton and I Can't Begin To Tell You.)
"David Ebsworth's immersive body of work demonstrates a keen eye for historical detail." (Vaseem Khan, best-selling author and Chair of the UK Crime Writers' Association.)
Buying Options: