The music of Republican Spain creeps into my Spanish Civil War novels quite often.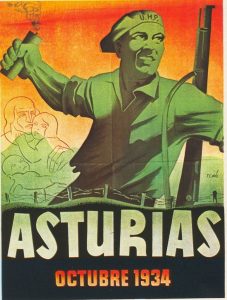 In The Assassin's Mark, our main protagonist, Jack Telford, is introduced to the traditional Asturian mining song that became an anthem during the conflict, Santa Bárbara Bendita. It remains an anthem for Asturian miners in their struggles even today. Here's a translation of a couple of random verses, just to give a flavour. And it's a great marching song, of course.
In the María Luisa pit, Trailarai larai, trailarai,
In the María Luisa mine, Trailarai larai, trailarai,
Sixteen miners have died.
Look, look Maruxina, look,
Look how I'm coming home.
My shirt has turned red, Trailarai larai, trailarai.
My shirt has turned red, Trailarai larai, trailarai,
Stained with the blood of a fellow miner.
Look, look Maruxina, look. Look how I'm coming home!
It's a song that Jack will hear again in the sequel, Until the Curtain Falls – along with the following…
First, the Spanish version of The Internationale – La Internacional, courtesy of Ken Loach's Land and Freedom.
Then the famous, ¡Ay, Carmela!
And the superb Si Me Quieres Escribir. If you want to write to me, you know where I've been posted – to the Gandesa Front, in the first line of fire. This song had dozens of variants, many of them satyrical, including several that poured scorn on the pimps, racketeers and "false militiamen" of Madrid and elsewhere.
A Reminder of Spain's Jewish Heritage
I've also included here the haunting Bracha Zefira version of the Hebrew song, La-midbar S'aenu, which Jack hears in the house of Padre Leocadio Lobo, not essentially a song of the civil war but a reminder of the Jewish heritage in Spain that Franco (and his fascist allies, Hitler and Mussolini) was keen to eradicate, along with communism, socialism, etc.
Finally, the Spanish version of La Valle de Jarama, as Jack might have heard it in that bar in Alicante. But maybe we'd better have the Woodie Guthrie version too.
Now, I've had a few requests to also post the Nationalists' (fascist) anthem, Cara al Sol, on here – because that, too, appears in Until the Curtain Falls. But I've refrained from that and if anybody particularly wants to know how it goes, it's easy enough to find on YouTube.
A Couple of Extras
All the same, there were two additional songs I wanted to include here. The first is the anarchist anthem, A Las Barricadas (To the Barricades), which Jack would almost certainly have heard among the anarchist waiters in Madrid. This was actually based on a Polish song called the Warszawianka. And the second, this lovely Rolando Alarcon version of Los Cuatro Generales. Based on an older folksong, The Four Muleteers (Los Cuatro Muleteros), this was performed in English translation by Paul Robeson, Pete Seeger, etc, as The Four Insurgent Generals.
And you can find out more about the Jack Telford Spanish Civil War novels here…