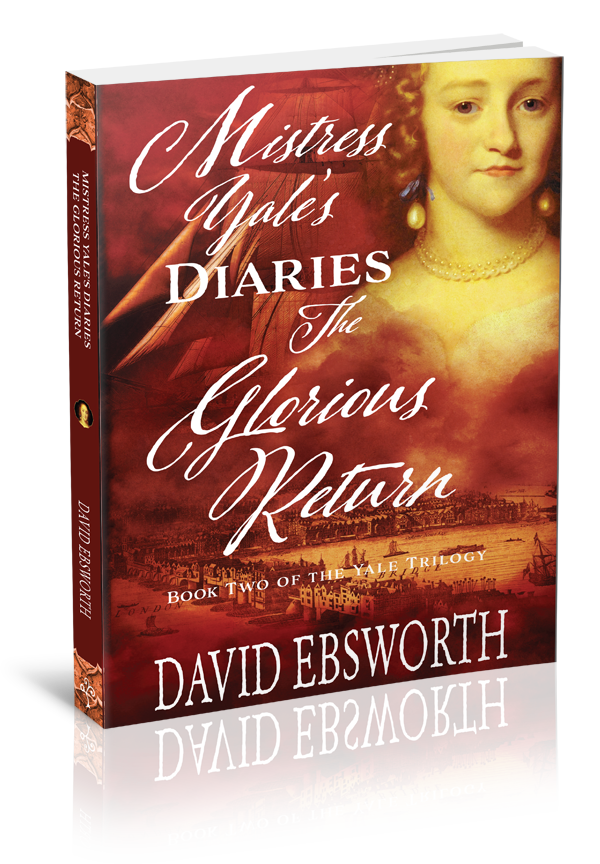 This, my eighth novel, is the second part of the Yale Trilogy
1689 and the wife of English East India Company Governor Elihu Yale risks the six-month sea voyage from old Madras to her home in London with her youngest children. But after twenty years away, it's a city Catherine now barely recognises – built anew after the Great Fire and occupied by William the Third's soldiers in the wake of the Glorious Revolution. Yet some things never change, and the secrets she thought she'd left behind in Fort St. George soon return to torment her. An old rival, a long-lost friend and a bitter enemy soon draw her back into a world of espionage, revenge and brutal danger. Her husband may still be on the far side of the world but his reach seems very long indeed.
Ebsworth has used historical fiction tools skilfully to put together Catherine Yale's astonishing story, essentially from the blank space in her husband's will. Recommended." Waheed Rabbani, Historical Novel Society and author of the Azadi Series
Mistress Yale is a phenomenon – compassionate and courageous, she misses nothing and viewing the seventeenth century world through her well-travelled eyes is a rare treat. A feat of immaculate research and world-building." Deborah Swift, best-selling author of Pleasing Mister Pepys, A Divided Inheritance and the Highway series
Buying Options
---
The Yale Trilogy
The first part of the Yale trilogy is The Doubtful Diaries of Wicked Mistress Yale.
The third part of the Yale trilogy is Mistress Yale's Diaries, The Parting Glass.
Elihu Yale, Welsh nabob, East India Company merchant adventurer, collector, philanthropist – and slave trader – gave his name to one of the world's most famous universities. His biography has been written many times, most notably by the American academic, explorer and politician Hiram Bingham, who is generally credited with the discovery of Machu Picchu. Yet Yale's biographers have consistently paid scant regard to his wife, Catherine, who was married to him for 41 years.
If poor Catherine gets a mention at all, it's because of Yale's last will and testament in which he most notably wrote: To my wicked wife… and then left a very large blank, not even giving the poor woman her name. Yet, with a modest amount of research, Catherine's story turns out to be at least as intriguing as Elihu's own tale. And Mistress Yale's Diaries, The Glorious Return continues that story in a way you'll never forget.