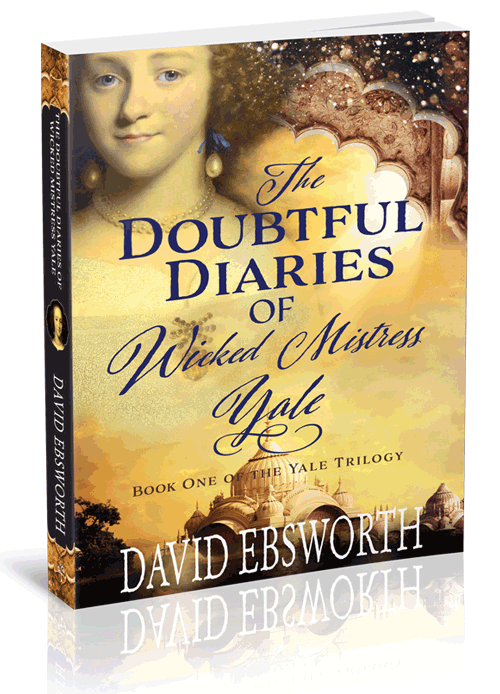 This, my seventh novel, is the first part of the Yale Trilogy.
1721, and elderly Catherine Yale discovers that second husband Elihu's will has left her no bequest except the slur of branding her a "wicked wife".
True, her private journals are filled with intimacies: her inner thoughts about life in Old Madras, where the East India Company's intrigues are as complex as any in the Mughal Emperor's court. And the espionage she has undertaken, despite the danger into which it has thrust both herself and her children. Perhaps it's time for her to read them afresh. To go back before the days when Elihu first betrayed her. Before she was betrayed by her enemies. Betrayed by the friends who should have stood at her side. Before she determined to wreak her revenge on them all.
David Ebsworth demonstrates a keen eye for historical detail and evokes, in his exploration of the Indian subcontinent of that period, James Clavell's bestselling Shogun. An excellent adventure yarn." (Vaseem Khan, best-selling author of the Inspector Chopra and Baby Ganesh Detective Agency mysteries)
Buying Options
---
The Yale Trilogy
The second part of the Yale trilogy, Mistress Yale's Diaries, the Glorious Return.
The third part of the Yale trilogy is Mistress Yale's Diaries, The Parting Glass.
Elihu Yale, Welsh nabob, East India Company merchant adventurer, collector, philanthropist – and slave trader – gave his name to one of the world's most famous universities. His biography has been written many times, most notably by the American academic, explorer and politician Hiram Bingham, who is generally credited with the discovery of Machu Picchu. Yet Yale's biographers have consistently paid scant regard to his wife, Catherine, who was married to him for 41 years.
If poor Catherine gets a mention at all, it's because of Yale's last will and testament in which he most notably wrote: To my wicked wife… and then left a very large blank, not even giving the poor woman her name. Yet, with a modest amount of research, Catherine's story turns out to be at least as intriguing as Elihu's own tale. And The Doubtful Diaries of Wicked Mistress Yale begins to tell that story in a way you'll never forget.