I read Stoner a few years ago, not long after it had been "rediscovered." I've read it several times since then and it's probably one of the novels I've recommended perhaps more than any other. So I recently suggested that my oldest friend, Alastair McLachlan (I reckon we've been mates since 1954!) might give it a try. Not only did he do so, but also took up my invitation to write a review for this "guest blog." Alastair is a great linguist and polymath, a proud Scot who lives in Milan, Italy.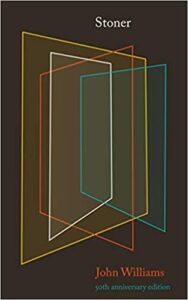 As the modern cover often says, "The greatest novel you've never read."
The Review, by Alastair McLachlan
Ever since I started reading American literature, I've been  hearing all about "the Great American Novel" and whether it's already been written. And, if so, by whom.  Or perhaps whether it's something for which we still have to wait. Those who believe it's already written throw around names of "the usual suspects". Hemingway, Baldwin, Roth, Updyke (definitely not !!!). Easton Ellis, Foster Wallace, and many more. My own personal choice has always been between The Grapes of Wrath and American Pastoral  – perhaps because they're the ones I know best.
Recently, however, I read Stoner by John Williams and must say it would be a serious contender for the title. Even if it is a wee bit "European".
The Plot
The book tells the story of William Stoner. Born into a dirt poor farming family, William is sent off by his father to study Agricultural Science at the University of Missouri.
In his second year, English Literature is a compulsory subject and during a lecture his professor, Archer Sloane, reads a sonnet by Shakespeare  – a sonnet which overwhelms the young Stoner and makes him decide to change his course of study.
The novel traces his life as an undergraduate. Then as a postgraduate PhD student. And finally, Assistant Professor of English Literature.  All the ups and downs, jealousies and back stabbing of academic life in the U.S. during the first half of the 20th Century.
There is also his spectacularly disastrous personal life. An unhappy marriage and his relationship with a daughter which goes from the idyllic to the hellish. Finally a love affair with a young student which wreaks havoc with both their lives.
As I said already, there's something European about the this book, something almost 19th Century European.
The tale unravels in an unhurried no nonsense way, almost like a slow moving calm country stream. Yet it manages to turn the story of a mundane life into a fascinating narrative. It could almost have been written by Thomas Hardy or Guy de Maupassant.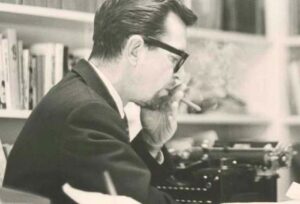 A Lost Classic
When first published in 1965, Stoner did not enjoy much success and only sold about 2000 copies, and a year later was already out of print. It became something of a lost classic.
Then, in 2011, it was translated into French and became a best seller. Other translations followed with the same result in a number of countries. Here in Italy, Stoner enjoys a cult status equal only perhaps to The Catcher in the Rye.
At the end of the day, Stoner is one of those novels which you're sorry to finish because it gets hold of you and as an uncle of mine would have said it's a bloody good read.
About the Author
John Edward Williams 29/8/1922-3/3/1994 was an author, editor and Professor of English Literature. He published four novels, two books of poetry and edited an anthology of English Renaissance poetry. For his novel Augustus he won the National Book Award in 1993. His fifth novel, The Sleep of Reason, remained unfinished at the time of his death in 1994.
Alastair McLachlan, August 2021