Black Satire at its Very Best!
Opening sentence: This may be hard to believe, coming from a black man, but I've never stolen anything.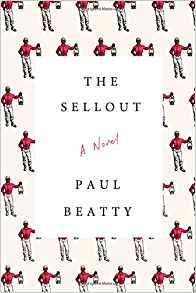 The "sellout" of the title is the satirical novel's black narrator, a man whose upbringing has been scarred by the pscychological experiments forced upon him by his father. And when their ghetto community, Dickens, is wiped off the map, the narrator will apply the same reverse psychology to bring the place back to life again. Making it attractive and popular to just about everybody. How? Through the re-introduction of slavery and racial segregation. Well, maybe popular witheverybody except the Supreme Court, that is!
I didn't know Paul Beatty's work before. And the fact that The Sellout was the Man Booker Prize winner in 2016 wouldn't particularly have attracted me to the book. But this was a birthday gift from our daughter-in-law. And, thankfully, it returned me to a genre that used to be among my favourites – American dark satire.
So it brought back memories of Joseph Heller's Catch-22 and Something Happened; John Irving's The World According to Garp and A Prayer For Owen Meany; Kurt Vonnegut's Slaughterhouse-Five; Philip Roth's The Breast; Amanda Fillipacchi's Nude Men and many, many others.
My wife told me off several times for laughing so loudly in bed! Loved it! Dzięki, Monika!