It began with a quilt, a tapestry of colour and images here at the Wrexham Museum during the summer of 2017. I'd been working with the rest of the team helping to organise Wrexham's Carnival of Words – the city's own literary festival with a difference. We'd held one of our events at the Museum and arrangements were in full swing to display the Tailor's Coverlet, also known as the Wrexham Quilt.
So I came back to see this famous exhibit, normally housed at the St. Fagans National Museum of History in Cardiff. It was fashioned by Wrexham tailor, James Williams, took over ten years to complete and made its first public appearance at the Art Treasures and Industrial Exhibition of North Wales and Border Counties in 1876. More about that Exhibition later on the walk but it must have made the same impression on those who viewed it first as it did on me.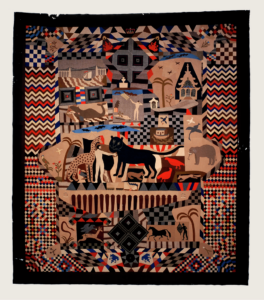 4,525 pieces of coloured woollen cloth. The design includes scenes from the Bible, landmarks of 19th century Wales including images of the Menai Suspension Bridge, as well as Cefn Viaduct at Cefn Mawr.
Fabulous but it was also a conversation with a fellow visitor to the Museum that struck another chord. It happens a lot here in town and usually follows the line that it's "a crime" that so many of Wrexham's fine buildings, so much of Wrexham's history has been lost to us.
I flippantly replied that if it is, indeed, "a crime", then surely the DNA and forensic evidence of that crime must still be all around us. And so it is! All we need is to look up, above the shop fronts and office windows, to see that there are still many reminders of Wrexham's past.
Wrexham's history is, after all, rich indeed. In 1700, it was most likely the largest town in Wales, even with its modest population of 3,500. A century later it had been overtaken by all those towns of the south – Merthyr, Swansea, Newport and eventually Cardiff. But Wrexham remained hugely important and, depending on how you count, is still the fourth largest urban area in Wales, certainly the largest in North Wales.
Archaeological remains show that there has, quite naturally, always been settlement here, in pre-Roman times, then through Roman occupation, the arrival of the Anglo-Saxons and then the building of the Norman castle they named Wristlesham, the first recorded naming of the town in 1161.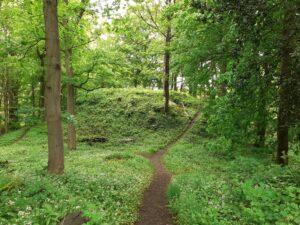 I've lived here in Wrexham since 1980 and love it, but I only really started exploring the town – now, of course, become a city – properly when I retired and began writing historical fiction, sometimes needing to undertake research into Wrexham's history.
And then came the Carnival of Words and visiting authors who wanted to be shown around the town. Of course, when you have to act as somebody's tour guide you suddenly start to see the place through the incomer's eyes, to spot features in a very different way. The town's story has sometimes been of progressive non-conformism, sometimes of reactionary violence, but generally of inventive and cultural creativity.
That was the inspiration. And the inspiration led to more digging. The books of 19th Century Wrexham historian A.N. Palmer; lots of online resources; the superb Encyclopaedia of Wrexham by W. Alister Williams; papers produced by the Clwyd-Powys Archaeological Trust; the wrexham-history.com site; Wrexham Council's excellent online Town Walk; and much, much more.
Excellent – though it occurred to me that the Town Walk might benefit from a pocket-sized Companion and this book has been the result. I wanted to help pull together some of the highlights from those others sources but mainly using the books published by Alfred Neobard Palmer to recreate images of how Wrexham would have looked, variously, in 1700, 1800 and 1900.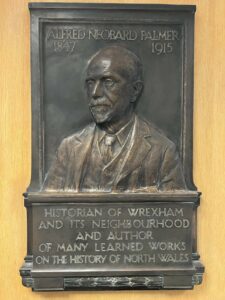 Palmer was born in Thetford, Norfolk in July 1847, but moved to Wrexham in 1880. He was chief chemist for the Brymbo Steelworks Company but later set up his own business as an analytical chemist in Chester Street. When he retired, he devoted himself to historical research, publishing ten books on local history. He died in 1915 and is buried at the Wrexham Cemetery on Ruabon Road.
Without Palmer our knowledge of the town's past would be far more limited than it is. Owing to his scientific and analytical mind, he applied himself to the task of recording the town's history more than the antiquarians who preceded him – and a good number who followed in his footsteps.
We'll mention Palmer a bit more later but, for now, let's get on with the walk. It'll take an hour or two and it's mostly flat, except for the sections on College Street and Town Hill. But they're not too bad and the walk is generally very accessible.
David Ebsworth, May 2022
(This is the introduction to the forthcoming guidebook, Wrexham Revealed, A Walking Tour with Tales of the City's History)