You wouldn't recognise it anymore. Anonymous, a dual carriageway. That stretch, behind the Walker and Museum. From Islington and down to Byrom Street. An endless stream of vehicles, both ways. In one, towards the eastern suburb sprawl, the motorway and hated Manchester, the two cathedrals, Toxteth and the south. The other? Mersey Tunnels and the north. Or Dale Street, to the windswept Pier Head, the ferries, and some mystic Sixties song.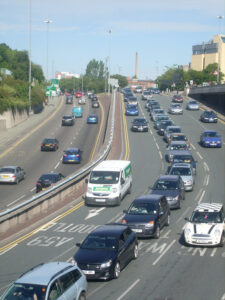 But then, a hundred years ago and more, how near to revolution's part it played.
More modest, yet more interesting by far. All terraced houses, businesses and shops. A maze of smaller thoroughfares and dives where, later, Gerard Gardens would be built. Built only to be ripped back down again. To make way for some sterile urban sprawl.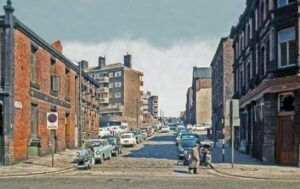 So, join me, in that Hunter Street of old. Before the present highway's diesel fumes. Nineteen Eleven, just to be precise. A boundary. No man's land. The old frontier. Sectarian divides, all hues and cries.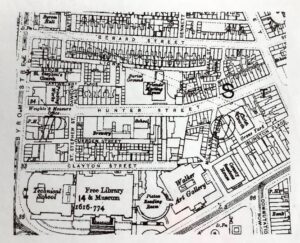 Nineteen Eleven and the transport strikes. An August Bloody Sunday afternoon, of sun-soaked protest, speech and tragedy. St. George's Plateau, filled to bursting point.
A rally crowd, one hundred thousand strong, of seamen, dockers, carters and the rest. Their families, the mothers and the kids. And suffragettes with sash and banner bright. 'God Bless Tom Mann!' and 'Solidarity!'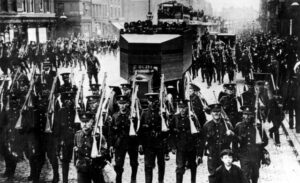 Too close to insurrection for the Mayor, for London – Churchill as Home Secretary. The army called, and police from Birmingham. Repeated baton charges, broken heads. The wounded. Women. Children. Innocents. The Riot Act read, just as afterthought.
A running battle, two days long or more as martial law invaded hearth and home. So, barricades, defence committees formed. On Christian Street. On Hunter Street as well.
The Magistrates sent men to Walton Gaol in Black Marias flanked by mounted troops. Just two days later, August the Fifteenth. But crowds had gathered, protests on the route, near Hopwood Street along old Vauxhall Road. They say that stones were thrown, the horses shied, but those Hussars replied with rifle fire. Two men shot dead – one in his own front room and hanging curtains for his new young wife. There was, of course, an inquest of a sort. The verdict? Homicide and justified.
Yet, bit by bit, the strikers won their fight. The seamen, dockers, carters and the rest. The tramway workers too – at least in part. September came and went. Tom Mann went too. The trams ran once again down Hunter Street, past lodgings, past Christ Church, the Registrar – for Islington – the Quaker Meeting House. Tobacco warehouse. Mellor's Brewery. The bottom corners, printer Bill McCall, the Weights and Measures place while, opposite, the Byrom pub, though known as Old Mad John's.
All gone now, nothing left but traffic jams. So, next time, when you're stuck there, heading home – that stretch behind the Walker and Museum – maybe remember how it once had been. On Hunter Street, its place in history.