As usual, there are plenty of musical references in A Betrayal of Heroes. No room for all of them, so these are Jack Telford's Top Ten choices, the tracks of his years through the Second World War. All you need to do is click on the images, which will take you to a YouTube clip. Skip any advertisements and enjoy the songs.
At Number Ten, Brachah Zefira singing a song which translates, roughly, as "Drink, my flock!"
Brachah Zefira, born 1910 in Jerusalem to Yemenite Jewish immigrants, became the epitome of Middle Eastern music from the  1940s until the 1970s. A mix of Sephardic, Andalusian, Arabic and Jewish folk songs, for Jack she represented the complexities of multicultural North Africa. He'd first heard her music while in hiding, in Madrid, but in Rabat and Morocco he'll meet her in person.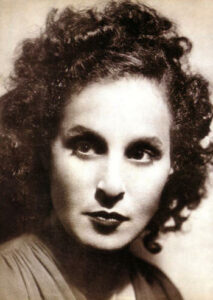 Brachah Zefira
At Number Nine, it's Rina Ketty singing J'Attendrai
French, of course, for I will wait. It's actually a French version of an earlier Italian song. But after France fell to the Germans, and La Marseillaise was banned in the occupied territories, it became an unofficial anthem. Its love song lyrics came to symbolise a longing for liberty. This Rina Ketty recording dates from 1938. In 1939 it was recorded by Jean Sablon and, in 1945, by Bing Crosby as I'll be Yours.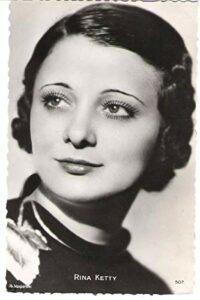 Rina Ketty
At Number Eight in the book's Top Ten Hits, Goodbye from The White Horse Inn
One of Jack Telford's favourite songs. It speaks to him of desert adventures – and he has plenty of those in A Betrayal of Heroes. The most popular recording of Goodbye in the 1930s was Richard Tauber's German version. But The White Horse Inn had been hugely popular on the London stage and the songs were well known. This is a later 1947 version by Joseph Locke.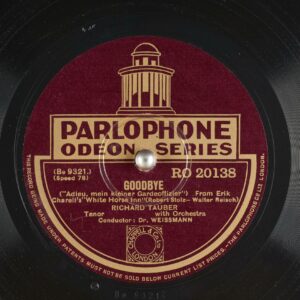 Richard Tauber's recording of Goodbye
At Number Seven, Si Me Quieres Escribir by Rolando Alarcón
Jack knows this song from his days in Spain, during the last months of the civil war. And here's a version with English subtitles. The song originally dates back to the Rif Wars in Morocco during the 1920s but, like many soldiers' songs, the lyrics were easily capable of modification and it became especially popular among the Republic's fighters between 1936 and 1939. After that, among the same fighters now in the ranks of Free France and continuing their struggle against fascism until 1945.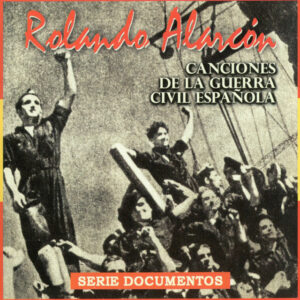 At Number Six, J'ai Deux Amours by Josephine Baker
This was the number with which Josephine Baker captivated Paris in the 1930s. Born in America, she'd left the racial hatred of the USA to establish her musical career in France. Renowned for her outrageous and comic dances, she became the first black woman to star in the movies and, by 1930, she was earning more than any other entertainer in Europe. She recorded J'ai Deux Amours in 1931 and, by the time the war started, it had become yet another anthem for patriotic French folk. In the early part of the war, she acted as an agent for the French intelligence services and in 1941 she became seriously ill in Morocco. There, of course, she met Jack Telford.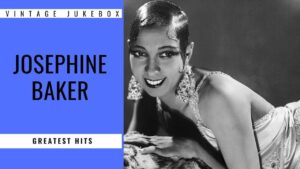 At Number Five in these Top Ten Hits, Wilfred Sommer's Nazi swing number, Auf Dem Dach Der Welt
Jack Telford might have been surprised to find that there was such a thing as Nazi swing, but then it's easy to forget that in the 1920s, before Hitler, Berlin was the Babylon of Europe, the continent's capital of sexual and artistic freedoms. Risqué nightclubs and cabaret shows, drugs, jazz, endless parties – for those who could afford them – performers like Dietrich and Berber. This was the decade of Bauhaus and Brecht. A minor miracle that some of this decadence survived the rise of the Nazis and, during the war, musicians like Sommer were hugely popular, and would have been heard anywhere falling under German influence – Vichy France, of course, and Morocco.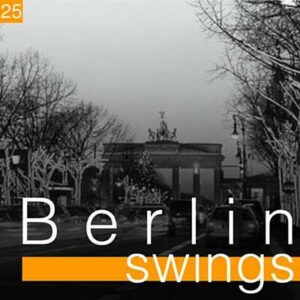 At Number Four, Josephine Baker again, with Bye, Bye Blackbird
Originally published in 1924, the song remained popular right through the 20s, 30s and 40s. It was a regular number in Baker's repertoire.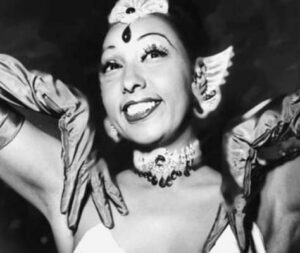 Number Three? A contemporary version of the Whiffenpoof Song
Strange title? You may know this one better by the lyrics of its chorus: We're poor little lambs who have lost our way. Baa, baa, baa. Its origins? The regular closing number sung by the Yale University a capella group, a tradition dating back to 1909 and continuing today. The lyrics are adapted from the Rudyard Kipling poem, Gentlemen Rankers. In the novel, as something of a homage to Peter Falk in the movie Anzio, a US Rangers sergeant tries to teach three young French women to sing the chorus. This is the 1927 Rudy Vallee version.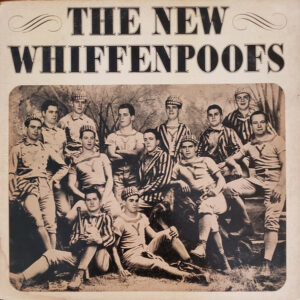 Our Top Ten Hits, Number Two, Himno del Riego
Spain has been no stranger to military coups. But these haven't always been a disaster. In 1820, Spanish colonel and liberal politician Rafael del Riego led a successful uprising against the despotic rule of King Ferdinand VII. The song was written in honour of del Riego and served as Spain's national anthem from 1820-1823, then from 1873-1874, and finally for the Second Spanish Republic, 1931-1939. A regular favourite among those Spaniards fighting for Free France.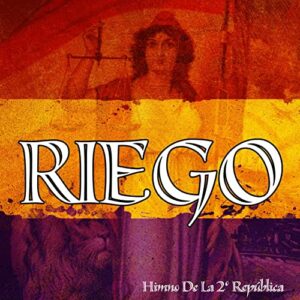 At Number One, La Marseillaise, of course
La Marseillaise (lyrics written by Strasbourg's Rouget de Lisle in 1792) naturally appears at various points throughout the novel. It's been banned at various points in history, considered too revolutionary by Napoleon Bonaparte and then Napoleon III. But it has its modern critics as well. The words "Sang Impur"  (Translation: Let an impure blood water our furrows) are often seen as racist towards the enemies of France. Still, there are some fabulous versions of this best and most stirring of all national anthems, but I chose this one because it has a story.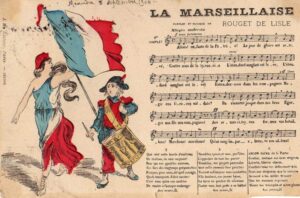 This is said to be the last recording broadcasted by the Paris radio on June 14th, 1940, before turning the radio station over to the Germans. The sound was captured over the airwaves, hence the drifting in and out of frequency. While finding the link to this version I came across a post from J.C. Kaelin, asking folk to credit him with the creation of this video in 1996.
But since this is Number One, and given the novel's connections to the movie Casablanca, let's have that astonishing scene as an added bonus.