A brief summary from the "Ten Things" talks I'd been doing in April 2016 to mark the 270th anniversary of the Battle of Culloden and the end of the Jacobites' 1745 Rebellion. These talks usually accompanied showing of Brian Blessed's film, Chasing The Deer.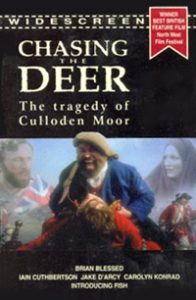 1. The word "Jacobite" means "Supporter of James"
James in Latin, of course, is Jacobus.
2. There were 7 planned or actual Jacobite Rebellions
1689-92: Bonnie Dundee; Derry; the Boyne (1690); persecution of Scots/Irish Catholics (Glencoe, etc)
1708: Old Pretender; French fleet & 6,000 soldiers
1715: Earl of Mar and Highland Clans; foiled revolts in Wales, Devon and Cornwall; invasion – Preston; Sheriffmuir (13th Nov); Pretender lands – and sails away again
1719: Lord Tullibardine, Spanish fleet and 5,000 soldiers; "battle" of Glen Shiel
1744: French invasion barges and 10,000 men – more storms
1745-46: Charles; Eriskay/Glenfinnan; Edinburgh; England
1759: Seven Years War – another planned invasion but scuppered by French naval defeat at Quiberon Bay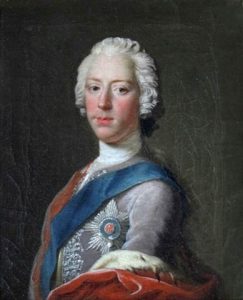 3. Bonnie Prince Charlie wasn't Scots
Charles Edward Louis John Casimir Sylvester Severino Maria Stuart, born Rome 1720. Died in Rome 1788. Father: James "III". Mother: Maria Sobieska
4. There were more Scots opposed to the 1745 Rebellion than supported it
And many Scots supporters were Lowlanders not Highland clansmen. The Jacobite army never amounted to more than 6,000 men.
5. There were Jacobite supporters in England and Wales too
An early Jacobite victory at Prestonpans brought terror for the Loyalists (the Patriotic Song for Wade – National Anthem) and encouragement for the Rebels. The Jacobites received promises of support from Newcastle; from Manchester and its merchants (who raised an ill-fated regiment of 300 men to fight for the Jacobite army; and a certain Watkin Williams Wynn in Wrexham (North Wales), who helped establish  a Cycle Club of the White Rose to raise support for the rebellion among the Welsh – which, mysteriously, never materialised.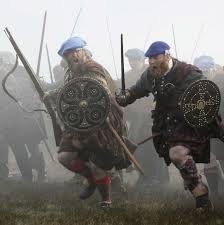 6.The 1745 Rebellion included an invasion of England – that almost succeeded
The very real possibility that Bonnie Prince Charlie could have taken London was thwarted, almost single-handed, at Derby, by Government spy, Dudley Bradstreet
7. The 1745 Invasion included the last battle ever fought on English soil
This was the Battle of Clifton Moor, in Cumbria. It was followed soon afterwards by the Duke of Cumberland's capture of Carlisle Castle and the garrison there from the Jacobite Manchester Regiment – whose fate was terrible, earning them the title, The Manchester Martyrs.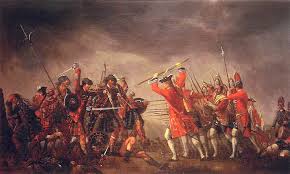 8. The Battle of Culloden lasted less than an hour
This was the last major battle on British soil, actually taking place on Drummossie Moor, just outside Inverness. By that time, there were only the Highland regiments left in the Jacobite army. They were badly unfed and had suffered a disastrous overnight march to Nairn in driving rain. Starving, wet and exhausted, they were badly led. Their normally effective Highland Charge was, this day, somewhat chaotic and began at 1.00pm on 16th April 1746. By 2.00pm it was all over. There were 2,000 Jacobite dead and dying on the desolate moorland, and just 300 of the loyalist Hanoverian army. The Jacobite wounded were left on the moor for two days – and then those who had survived were brutally massacred.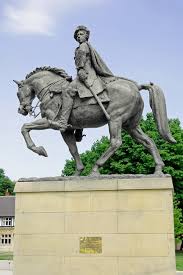 9. The '45 destroyed the Highland clan system
Culloden was followed by executions of rebel leaders, and the transportation of entire clans. Over the coming years, traditional clan chiefs would be replaced by commercial landlords, and even many "traditional" clan chiefs ( like Cameron of Lochiel) supported commercialism over the needs of their clans folk. Many saw only the increased profitability of sheep farming and supported the Clearances – the process by which 100 years of enforced evictions, burned homes and ethnic cleansing, shifted traditional cattle-farmers from their land to make way for sheep and empty glens. But have the Clearances perhaps been romanticised? Were they just a sign of the times? Latest research shows that, during those 100 years, the Scots population actually increased? Yet there was certainly a diaspora that forced Highlanders in particular to be dispersed across Britain's colonies and beyond.
10. There's still a Jacobite claimant to the throne
He is Franz, Duke of Bavaria – born 1933, still considered by Jacobite supporters to be (as King Francis II) legitimate Stuart heir to the thrones of England, France, Scotland and Ireland. And there are others… the current (12th Duke of Berwick) is Spanish, also 19th Duke of Alba – that's because he's Carlos Fitz-James Stuart – a direct descendant of James of Second.