We built this city on Rock 'n Roll? Or maybe on solid Welsh red brick – the blood, sweat and tears of Welsh construction workers?
There are many volumes dedicated to the Welsh builders responsible for so much of Liverpool's Victorian housing and architecture. Liverpool artist Frank Green has produced an entire book of his paintings depicting the city's various collections of Welsh streets – and yes, the book's available in both English and Cymraeg.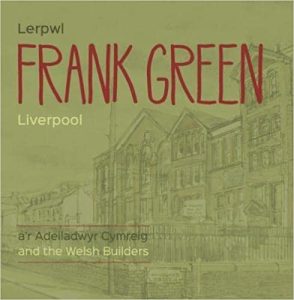 For a batch of reasons, I've always been conscious of Liverpool's Welsh connections, and my life's been pretty evenly divided by being brought up on Merseyside but living, since the early 1980s, in North Wales. So, when I was writing The House on Hunter Street, it seemed a natural thing to populate its pages with one or more Liverpool-Welsh families.
Of course, as a kid, there was always that thing about Liverpool being "the capital of North Wales" – and understandable, given that a hundred years ago (and, shamefully, still the same today) it was far easier to travel from North Wales to Liverpool than to Cardiff.
But how deep was that connection in 1911? And how much do those of us brought up in Liverpool understand the extent of Welsh influence within the city? Many of us, I guess, have grown up close to our Irish, Afro-Caribbean and other communities. But the Welsh?
There are plenty of historical points, naturally. A Welsh mayor in 1515, Dafydd ap Gruffydd. The Welsh who sailed from Liverpool to Patagonia in 1865 – and whose Welsh-speaking descendants are still there! A Welsh population of at least 22,000 in 1851 and 1871, but probably closer to 70,000 by 1911.
So many Welsh speakers in Liverpool that the Welsh National Eisteddfod was held in the city in 1884, 1900 and 1929. So many Welsh speakers that Welsh language newspapers like Yr Amserau flourished there. Later, the hugely popular Y Cymro (The Welshman) in which its proprietor, Isaac Foulkes, encouraged author Daniel Owen to serialise his novels Enoc Huws and Gwen Tomos.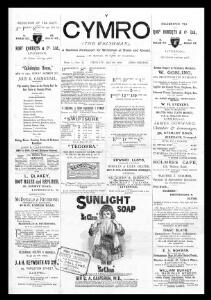 At the peak of Welsh numbers on Merseyside, over 70 Welsh Methodist chapels in Liverpool alone. And its fair share of radicals – like its group of Welsh conscientious objectors during the First World War. Or the arrival of larger-than-life Welsh entrepreneurs like Owen Owen, who opened his first drapery store in London Road during 1868 and – well, the rest is department store history.
And those Welsh builders?
By the 1850s there were literally thousands of Welsh building workers in the city – apart from all those who had migrated to Liverpool to work in the docks or the many other industries associated with the growing port. They needed housing and Welsh architects like Richard Owens, or Welsh builders like  David Roberts and Owen Elias were soon importing Welsh timber, Welsh slate and Welsh brick.
The collaboration between Richard Owens and David Roberts alone resulted in the construction of 10,000 terraced houses in Liverpool, and the design of the "Welsh house" – the solid, quick-to-build six-room house which came to typify Liverpool's working class terraced streets.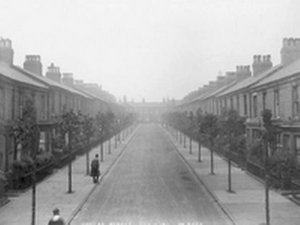 These appear all over the city – in Vauxhall, Anfield, Everton and Dingle. Some of these Welsh streets get a mention in The House on Hunter Street, and they're easily identified since they generally carry Welsh names, like Menai Street, Idris Street and many more.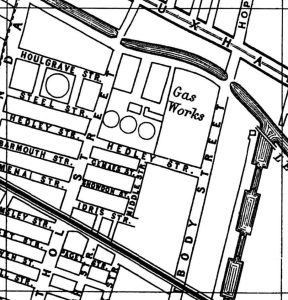 Others are a bit more subtle. Like the streets around Goodison Park, the first letter of their names spelling out the identity of their Welsh builders, Owen Elias and his son, William Owen Elias.
Of course, it wasn't simply housing. Reminders of more monumental Welsh construction in Liverpool are still around us. Most notably, the derelict Welsh Presbyterian church on Princes Road (the "Toxteth Cathedral"). Its fate remains in doubt. And  the former Welsh Calvinist Chapel, Chatham Street, Liverpool 7, and now part of Liverpool University (the Chatham Building). Reminders, yes. And reminders, as well, of the very many other examples now lost to us.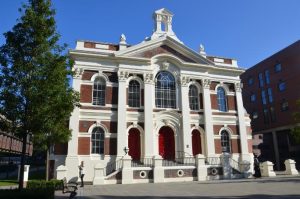 The most celebrated legacy of Liverpool's Welsh builders, however, must be Toxteth's famed Welsh Streets – recently the beneficiaries of a project to redevelop and preserve this area – seven streets running in parallel from High Park Street. Wynnstay Street, Voelas Street, Rhiwlas Street, Powis Street (once the setting for Tommy Shelby's home in Peaky Blinders), Madryn Street (where Ringo Starr was born), Kinmel Street and Gwydir Street. Two more – Pengwern Street and Treborth Street – just beyond.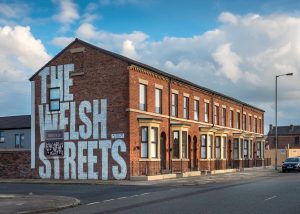 Sources: The Welsh Builder in Liverpool, the text of a lecture by Dr Gareth Carr, delivered at the Festival of Welsh builders on Saturday, 7 June, 2014; Merseyside Civic Society's paper on Terraced Housing in the Liverpool City Region; and the recently published The Welsh in Liverpool: A Remarkable History, by D. Ben Rees.