The third Jack Telford novel, A Betrayal of Heroes, is published in July 2021. And here's how I tried to build and research his travels and his trials. From Casablanca to Brazzaville, from the beaches of Normandy to the Liberation of Paris.
I had three things on my mind – three things which inspired the story.
First, at the end of the last Jack Telford novel, I'd told the story of how, in March 1939, a group of Spanish Civil War refugees had escaped from Alicante aboard the British steamer, SS Stanbrook. Many of those refugees had been fighting the fascists of Franco, Hitler and Mussolini since 1936. The Stanbrook carried them to Oran in North Africa. But what happened to them afterwards?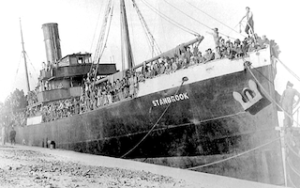 Second, I knew that, on 24 August 1944, the very first Allied troops to fight their way into German occupied Paris were Spaniards. They belonged to General Leclerc's Free French Second Armoured Division – a company known as La Nueve. But where had those Spaniards come from?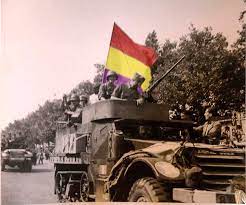 Third? That tantalising line at the end of the movie, Casablanca. "There's a Free French garrison over at Brazzaville," says Claude Rains. It occurred to me that, in 1942, everybody would have understood what that meant, what it implied. But now?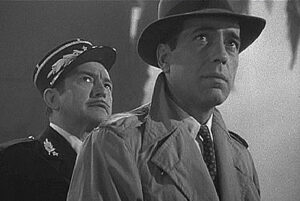 And I began to think about how and whether, what if, those three things were connected. From that grew the inspiration for A Betrayal of Heroes.
Yet, how to build and research the world in which the novel is now set? My protagonist, Jack Telford, finds himself trying to survive in wartime North Africa. He finds himself having to abandon his old life as a Sunday newspaper journalist and taking up a new role as a war correspondent. And he finds himself attached to the military, to a section of Leclerc's Free French army.
Now, it's fairly easy to build accurate scenes of Europe during the Second World War. But Oran? Rabat? Brazzaville? The towns of Chad? It was getting to be a struggle, until I stumbled across the archive of maps in the University of Texas Libraries. These are hugely detailed street maps produced in 1942 by the US Army Map Service for every major city in North Africa. Those maps led me to a similar cache of plans for the towns and cities of Gabon, the French Congo, Chad and so on. And from those maps I was able to build and research and construct the realistic settings for Jack Telford and his associates to populate.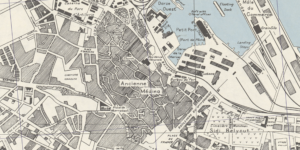 Detail of Casablanca, 1942 Map

The story of the Second World War's front line journalists could fill several volumes alone. But I had to "teach" Jack how to be a war correspondent.
Now, the Second World War was also significant for the number of female journalists on the front line. They may have been massively outnumbered by their male counterparts, but women of valour, like Clare Hollingworth, Martha Gellhorn, Helen Kirkpatrick, Virginia Cowles, Katherine Coyne and Lee Miller. They played a huge part in bringing the horrors of the conflict home to their readers in a whole new way. And I wanted to give a voice to Ruthie Cowan, Dudley Anne Harmon, Barbara Wace and others who all have a part to play in the novel.
But the snatches of Jack's pieces that appear in the book needed to more closely follow the style of the mainstream blokes whose names became legendary. I especially liked the work of American Pulitzer Prize-winning Ernie Pyle, who reported for papers like the Washington Daily News, and who spent all his time with the foot soldiers at the front, in North Africa, at Anzio, the D-Day landings and the Liberation of Paris. He gets an honourable mention in the novel, though he died – in the thick of things, as usual – at Okinawa in 1945. One of the many journalists who died in combat.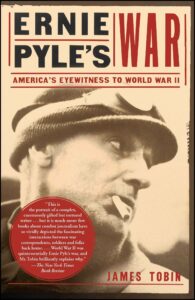 Great book! Give that man an eye patch and it could be Jack!
I fell in love with Ernie Pyle's writing – but it wasn't Jack. And then I came across another winner of the Pulitzer for his war correspondence, Hal Boyle. I picked up a copy of Boyle's book and found exactly what I was seeking. A collection of Boyle's writings, almost essays, almost Alastair Cooke.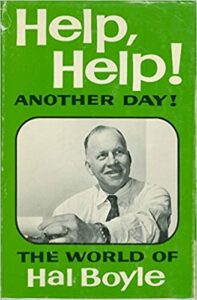 From this I was able to build and research what, I hope, are credible pieces of journalism – Jack Telford's own words but in the style of Hal Boyle. Boyle, incidentally, survived the Second World War, and the Korean War too, and died in 1974.
Finally, Jack and the military. He has to live and breathe among the men and women of Leclerc's 2nd French Armoured Division for almost eighteen months. And, before that, with Leclerc's flying columns in Libya – units a bit like the Long Range Desert Group.
For the latter I was lucky to discover Patrice Nganang, whose stunning novels tell the story of the black Africans who fought and died for France. Mount Pleasant and When The Plums Are Ripe. The tirailleurs with whom Jack spends much of his time in Equatorial Africa. And I tried to carry over some of the culture, beliefs and language of these men from Chad and Cameroon into A Betrayal of Heroes.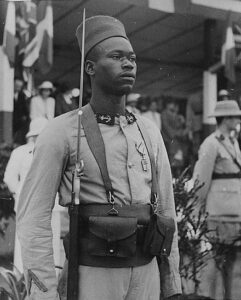 1942, Brazzaville. A tirailleur awarded the Cross of Liberation
Then there were the detailed diary entries of Free French tank driver Gaston Eve. All his first-hand experiences. Similarly, the accounts written by the women ambulance drivers, the Rochambelles, attached to Leclerc's column. And, finally, the fabulous writings of both Ernie Pyle and Hal Boyle. All of these helped capture the sounds, smells, tastes, feel and emotions of the front line.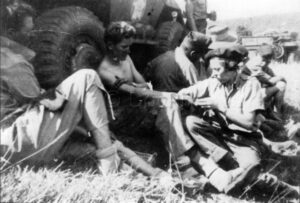 The remarkable battlefront ambulance drivers and paramedics of the Le Groupe Rochambeau
Naturally, there were endless non-fiction histories and autobiographies for the period. But I learned so much more from another lucky find. Robert S. Coale – Bob Coale – is Professor of Hispanic Studies at the University of Rouen. Jack Telford never did manage to spot the difference between an M5 half-track and an M9 – let alone the M3A1 . And though I didn't need to use that level of detail, it was important for me to know.
But Bob Coale has an encyclopaedic knowledge in this area of research and managed to send me no less than 124 (yes, 124!) corrections to my historical and military gaffes. I will never, ever, be able to thank him enough for helping me, in his own words, "to keep the fictional story within the limits of historical veracity." Bob, you're a star – and the patience of a saint!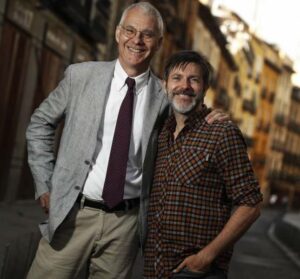 Bob Coale with Paco Roca, author of the superb graphic novel Twists of Fate, also about La Nueve
So, there we have it. Just a few of our journeys to build and research a credible background while writing A Betrayal of Heroes. It's due to hit the streets on 14th July. I just hope folk enjoy reading it as much as I loved the writing. But I do miss Jack's company!