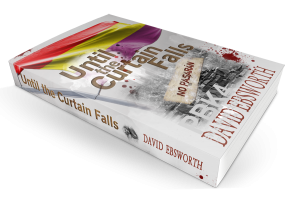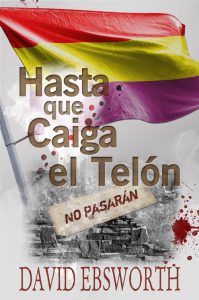 My sixth novel is a sequel to my 2013 Spanish Civil War story, The Assassin's Mark…
October 1938, and a British foreign correspondent is on the run in northern Spain, hunted by three different and deadly enemies determined to kill him before he can reach the Mediterranean coast and freedom.
Y aquí está el sinopsis para esta continuación de mi novela 2013, El Blanco del Asesino, un cuento de la Guerra Civil de España.
Octubre de 1938, y un británico, un corresponsal en el extranjero, está de fuga en el norte de España, perseguido por tres enemigos distintos y mortales, determinados a matarlo antes de que él pueda llegar a la costa mediterránea y la libertad.
"A cracking, finely paced story of civil war, betrayal, fear and bravery. It is also remarkable for its robust and honest characterisation and its terrific detail." (Elizabeth Buchan, bestselling author of Consider the Lily, I Can't Begin to Tell You and The New Mrs Clifton)
"Una historia fabulosa y muy movida de guerra civil, de traición, del temor y del valor. También es notable por sus caracterizaciones robustas y verdaderas, y por su minuciosidad imprescindible." (Elizabeth Buchan, novelista best seller de Considere el Lilio, No Puedo Empezar a Decirte y La Nueva Señora Clifton, etc)
"A pacy thriller set in the murky world of civil war Spain where nothing is quite what it seems. Until the Curtain Falls confirms Dave Ebsworth's reputation as a first-rate story teller with a sharp eye for historical detail." (Dr. David Mathieson, Spanish Civil War historian and tour guide, author of Frontline Madrid)
Join me on this fast-paced journey through the closing months of Spain's civil war. Feel it! See it! Live it!
¡Siéntelo! ¡Míralo! ¡Vívelo! Este viaje acelerado a través de los últimos meses de la Guerra Civil Española.
But, meanwhile, here's the opening…
Chapter One
Friday 30th September 1938
The image of the woman Telford had just killed would not leave him. He was almost sure she deserved to die. And, if he hadn't drowned her first, he was fairly certain that he himself would now be dead.
So far as I can be certain of any damned thing, any more. Jack shivered, naked except for his bathing costume, as he crouched among the tombstones and granite memorials, the rhododendrons, and the strewn pine needles under his bare and filthy feet. He was suffering from shock, he supposed. And cold. God, how I hate being cold. Still dripping from the Bay of San Sebastián's September waters. The salt stinging his hungry belly too. Deep scratches raked by Carter's nails before she had finally succumbed and been swept away from him.
What time? he wondered. Morning still, of course. But no later than ten. It couldn't be. She'd been positive they could get a swim and be back at the hotel again in time for their train to Irún and the French border at eleven-fifteen. But the boy who'd carried their towels would be waiting for them at the beach hut. And how long before he raised the alarm? Jack had no idea, but this was a mess.
Carter-Holt was a celebrity, after all. Holder of Franco's coveted Red Cross of Military Merit. One of the most famous right-wing international correspondents of her day. Christ, he thought, if only they knew! A brilliant cover for one of Stalin's agents. Her crazy scheme for assassinating El Caudillo when they had all been presented to him in Santiago de Compostela – those of the tour group still left, at least, after Covadonga. Telford a willing accomplice in Carter's plan. Yet the whole thing had gone to cock, ended in a farce.
If only I'd left well alone. But he had not.
***********************************
Mientras tanto, aquí está el comienzo del libro:
Capítulo Uno
Viernes 30 de septiembre 1938
Telford no podía sacarse de la cabeza la imagen de la mujer que acababa de matar. Estaba casi convencido de que ella merecía morir. Y, si no la hubiera ahogado primero, estaba seguro de que él, ahora, sería el muerto.
"Por lo menos, tan seguro como puedo estar de cualquier cosa en este momento". Jack se estremeció, desnudo a excepción de su traje de baño, mientras se agachaba entre las tumbas y memoriales de granito, los rododendros y las agujas de pino esparcidas bajo sus pies descalzos y sucios. Sufría un shock, supuso. "Y frío. Dios, cómo odio tener frío." Todavía le goteaba el agua de la bahía de San Sebastián en septiembre. La sal escocía también su vientre hambriento. Y los arañazos profundos producidos por las uñas de Carter antes de que ella finalmente sucumbiera y fuese arrastrada lejos de él.
"¿Qué hora es?" se preguntó. Era de mañana todavía, por supuesto. Pero no más de las diez. No podía ser. Ella había estado segura de que podían ir a nadar y volver al hotel con tiempo para tomar su tren hasta Irún y la frontera francesa antes de las once y cuarto. Pero el chico que les llevaba sus toallas los iba a estar esperando en la cabaña. ¿Y cuanto tiempo tenia que pasar antes de que él diera la alarma? Jack no tenía idea, pero eso era un problema.
A fin de cuentas, Carter-Holt era una celebridad. Poseedora de la codiciada Gran Cruz del Mérito Militar de Franco. Una de las más famosas corresponsales internacionales de la derecha de su época. "¡Dios mio!" pensó, "si solo supieran". Una tapadera fenominal para una de las agentes de Stalin. Su loca idea de asesinar al Caudillo cuando ellos fuesen presentados ante él en Santiago de Compostela – aquellos del grupo de turistas que quedaban todavía, por lo menos – después del fracaso en Covadonga. Telford era un cómplice dispuesto en el plan de Carter. Sin embargo terminó mal, finalizando en una farsa.
"Si solo yo lo hubiera dejado". Pero no lo hizo.
*****************
Una versión en castellano, disponible en octubre  de 2017