The sulphurous stench of gun smoke obscures our view of Waterloo, even two hundred years after the battle. Over this past bicentenary year, the clamour of conflict continues to sometimes deafen us. But that fog of war and the screams of injured outrage are now generally only the result of debate that still ebbs and flows around this turning point in European history.
Was victory at Waterloo (a) won by the brilliance of Wellington and the resolute steadiness of his British infantry; or (b) truly threatened by the alleged cowardice of his Dutch and Belgian contingents; or (c) snatched from the jaws of an ignominious British defeat by the timely arrival of Wellington's dogged Prussian allies; or (d) simply thrown away, against all the odds, by the French? You'll find whole battalions of eminent historians, still fighting their own battles, for and against each of these viewpoints.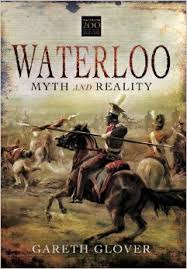 As a result, I struggle to recommend one non-fiction title alone that gives a wholly satisfying background. But my "top three" books on the subject would include Gareth Glover's Waterloo, Myth and Reality – a beautifully written volume, albeit approached from a fairly traditional Anglo-centric viewpoint, that's both readable and entertaining, as well as doing exactly what the title implies.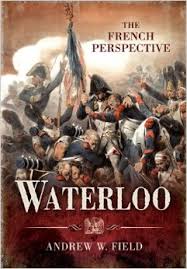 Second, there's Andrew W. Field's Waterloo: the French Perspective, which draws on primary sources previously unpublished in English to show the way that this battle looked from "the other side."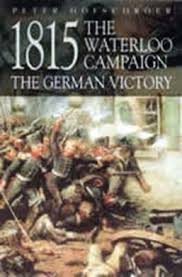 And, third, there's Peter Hofschröer's 1815: The Waterloo Campaign – The German Victory, a pretty contentious title but, in practice, this is a fairly balanced book, which at least gives proper credit to the role played by the King's German Legion, Dutch-Belgian and (particularly) Prussian forces in the campaign.
And it was a campaign, of course, not a single battle. By June 1815, the European powers had been at war for 22 years. Until 1917, this was known as "The Great War." But the French had been defeated in 1814. Napoleon was forced to abdicate and went into exile on the island of Elba. In March 1815, however, he escaped, returned to mainland France, raised a fresh army, and marched north to tackle his two principal enemies – an allied force under the Duke of Wellington, and the Prussians under Field Marshal von Blücher. Between 15th and 17th June, the French fought no less than five battles (at Charleroi, Gilly, Ligny, Quatre Bras and Genappe) before the final confrontation at Waterloo itself on Sunday 18th June.
But how have these events been covered by fiction writers, as opposed to non-fiction historians? And has the medium of historical fiction perhaps given authors a better opportunity to set the battle in a wider context, to deal with background social issues from the period? So here are my short reviews of some Waterloo novels (in chronological order), which were already favourites, or which I've read more recently for the purpose of this review piece.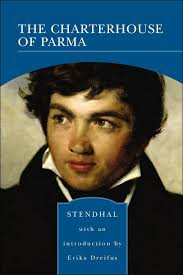 The Charterhouse of Parma (1839) – Stendhal. The story of young Italian aristocrat, Fabrice del Dongo. I include it here because several chapters follow Fabrice as he tries to join the French army on the Waterloo battlefield. An unusual tale. No real heroes. And much of Fabrice's time at Waterloo is spent with a hard-nosed, nameless cantinière, giving us some unusual political viewpoints – as well as the inspiration for my own recent novel about the battle.
The cantinières were female sutlers (victuallers), three or four serving with every French battalion,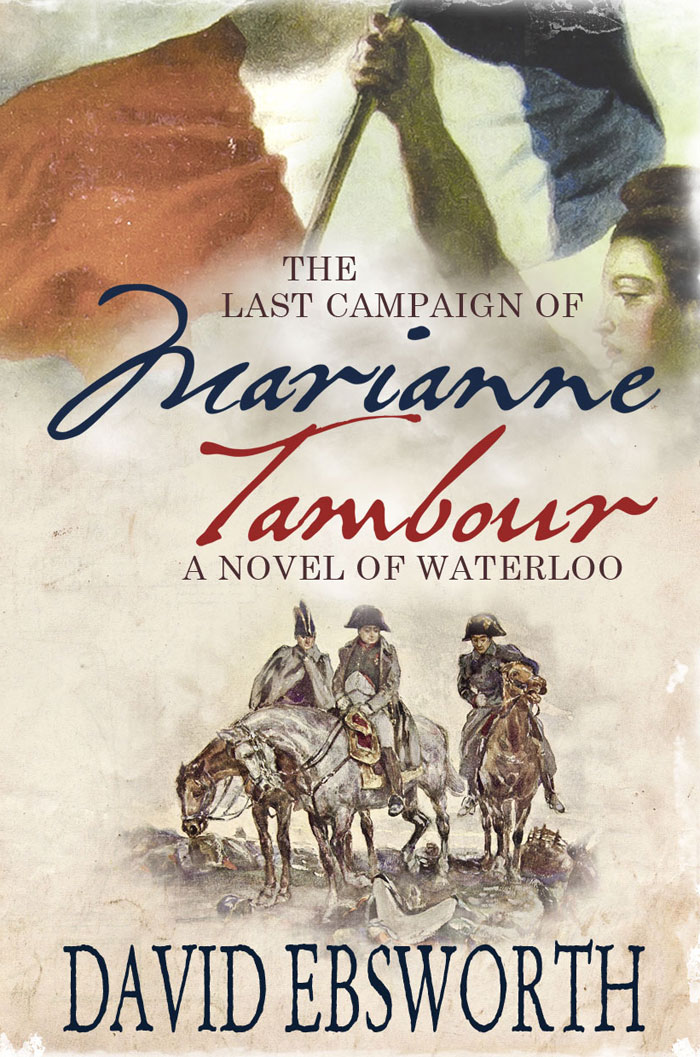 and frequently to be seen in the very front lines, serving brandy to the soldiers and sometimes embroiled in the fighting itself. Many of them died brutal battlefield deaths and it wasn't unusual for them to keep their children at their side, even at the bloodiest moments. Remembering the Stendhal novel, and wanting to write my own story of Waterloo – though from an entirely fresh perspective – I decided to tell the tale of cantinières as the core of The Last Campaign of Marianne Tambour (David Ebsworth, 2015). Astonishing that no fiction authors have told this remarkable story since 1839 – well, at least, not until now!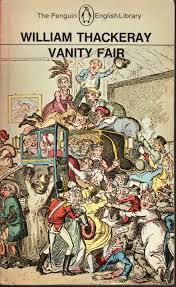 Vanity Fair (1847) – William Makepeace Thackeray. Another satirical novel, a glorious Victorian classic, set against the background of Waterloo – though readers won't learn much about the battle.
Les Misérables (1862) – Victor Hugo. Readers will be familiar with the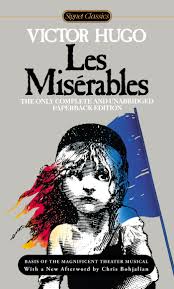 story of Jean Valjean, Cosette and the others. But it's maybe less well-known that the author takes a 19-chapter digression in the First Book of Volume Two for a hugely detailed description of Waterloo. Apparently lots of folk "skip" this section. Shame on them! Hugo visited the battlefield in 1861 and wrote the relevant section there. He uses these chapters to introduce key characters and frame the battle as a somewhat pyrrhic victory for the enemies of the French Revolution.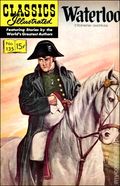 Waterloo (1865) – Émile Erckmann and Alexandre Chatrian. This was my first literary introduction to the battle. Of course, I knew nothing about Erckmann-Chatrian at the time (this one was a sequel to their 1864 novel, Un Conscrit de 1813) and only knew about the book itself because, at the time, around 1960 when I was eleven, I collected the wonderful Classics Illustrated comics, and this was one of my favourites. I paid 1s and 3d for it. Great story and great illustrations.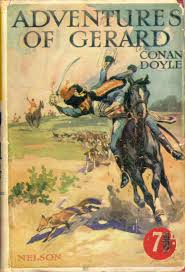 The Adventures of Gerard (1903) – Sir Arthur Conan Doyle. Only a quick mention here, since the book includes a chapter on how the famous Brigadier Gerard acquitted himself at Waterloo. Not bad.
The Bronze Eagle (1915) – Baroness Orczy. Nowhere near as interesting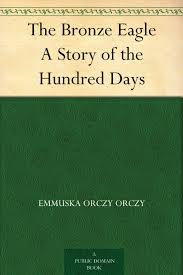 as The Scarlet Pimpernel but it is, at least, set against the background of Waterloo.
An Infamous Army (1937) – Georgette Heyer.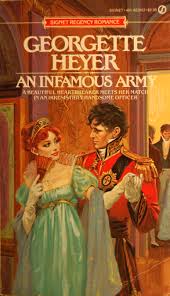 Another of my favourites. The first half of this well-known novel is a finely crafted Regency romance of the middle classes (Charles Audley and Lady Babs Childe), with some interesting side-plots. But the second half is almost entirely given over to the battle. Heyer recounts the main episodes almost minute-by-minute, and brilliantly, with such clarity that it has been used to help train officers at the British Royal Military Academy, Sandhurst.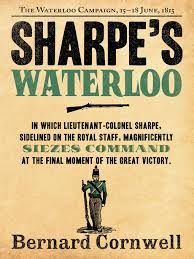 Sharpe's Waterloo (1990) – Bernard Cornwell.  All fans of the Sharpe series will love this one! The social context, of course, is that Sharpe has risen through the ranks so always brings some straight talking to the officer class within which he now moves. And he brings his prejudices with him too. He has a pretty low opinion of Wellington's Dutch-Belgian allies and particularly William, Prince of Orange. Sharpe's point of view about the Dutch-Belgians may be historically unjustified but it goes with our hero's character. And, anyway, he has other things to worry about – the machinations of his estranged wife, Jane, and her new lover, Lord John Rossendale.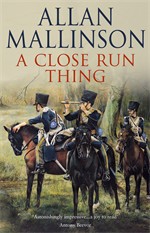 A Close Run Thing (2000) – Allan Mallinson. Follows young Matthew Hervey through Bonaparte's abdication in 1814, a posting to Ireland and, finally, the Waterloo campaign. Decent character development, dialogue and attention to detail. Strong on social context too and particularly the religious convictions and differences of the period that were still such a driver to the international politics of the age as well as one's place in society.
The Spy's Reward (2006) – Nita Abrams. Wonderful! Fifth in a series of stories, this one about British spy, Nathan Meyer, ostensibly on a mission to escort a young woman and her mother back to England but actually with a clandestine responsibility for observing the movements of Napoleon's army as Bonaparte makes his way north towards Paris after his escape from Elba. Plenty of twists and turns. Great historical detail. Once again, most of the Waterloo campaign takes place off-stage, but there are some harrowing scenes of the battlefield's aftermath. From a social context viewpoint, it's interesting because Nathan is part of a family of international bankers, so we have at least some insight into the forces at work behind the war and the discrimination facing British Jews of the period.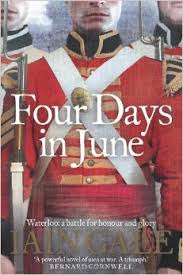 Four Days in June (2006) – Iain Gale. Well-written and tells the tale of the campaign's battles, but with the biggest focus (not unreasonably) on Waterloo. It relates the story from five different senior officer perspectives – William Howe De Lancey and James Macdonnell from the British side; von Zieten from the Prussians; and Ney plus Bonaparte himself for the French. Good battle scenes, considering these lofty viewpoints.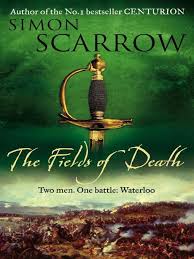 The Fields of Death (2010) – Simon Scarrow. The final part of Scarrow's series about Wellington and Bonaparte, this one picks up their respective stories in 1809 and follows them through to Waterloo and beyond. Written with all the author's normal attention to detail, it's a very imaginative recreation of the two commanders' characters although, for me, they were a bit over-simplified. Good scene-setting though.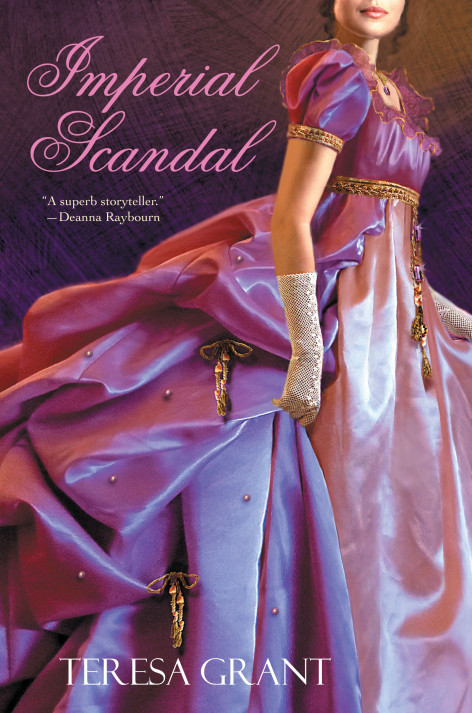 Imperial Scandal (2012) – Teresa Grant. Lots of characters. Lots of plot twists. But this other tale of espionage set against the background of Waterloo is also well-written. I'd never read Teresa Grant before but I'll definitely look for more. I liked it because it paints the chaos of Brussels so well, as panic fills the streets with news of Napoleon's march north. There is also an absorbing murder mystery which British spy Malcolm, and wife Suzanne, must attempt to solve. In the final few chapters, Malcolm becomes embroiled in the battle itself, basically acting as a courier for Wellington – and therefore providing a handy point of view from which to detail the conflict. And Teresa Grant does that very well indeed!
There are plenty more novels that feature Waterloo, of course (even the Susanna Clarke fantasy novel, Jonathan Strange & Mr Norrell, features the battle) and I've not omitted any of them for other reasons than lack of space and the fact that I've not read them! But plenty of choice here for anybody who wants to immerse themselves in this year's commemoration. Massive re-enactments at Waterloo itself (19th and 20th June) and even the Duchess of Richmond's Ball – all likely to be sell-out events!
(First published in Historical Novels Review, Issue 72, May 2015)
David Ebsworth's own Waterloo novel, The Last Campaign of Marianne Tambour, was published in 2015 and tells the story of the battle from an entirely new perspective.