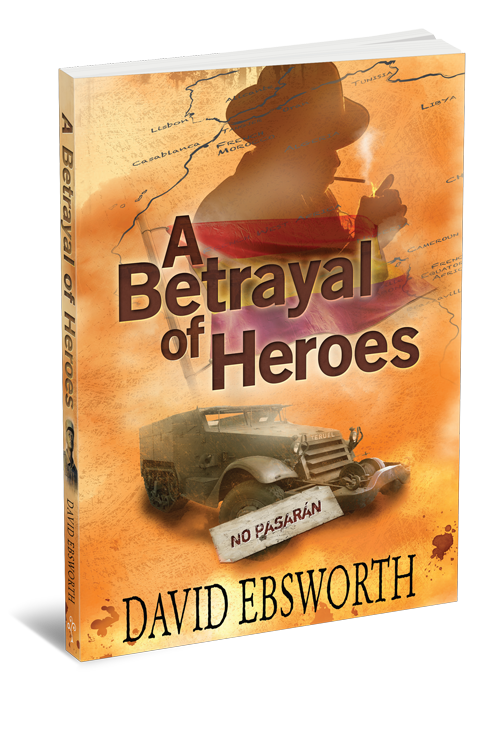 This, my tenth novel, is the third in a Jack Telford series of political thrillers.
Read the blurb…
'Swear,' Leclerc shouted, 'that you will never lay down your arms until our colours, our beautiful colours, are flying afresh on Strasbourg Cathedral!'
Headstrong newspaperman Jack Telford's weapon is his pen, but the oath he's taken at Kufra will still bind his fate to the passions and perils of the men and women who shape his life – his personal heroes, like the exiled Spanish Republicans now fighting for Free France. But from Oran and Casablanca to the heart of Africa, then into the cauldron of Normandy and the Liberation of Paris, Jack's fate is also bound to those who will betray them, and to the enemies who want Telford dead.
Enjoy a story of action, intrigue, love and loss?
A Betrayal of Heroes
takes readers on a rollercoaster ride from 1939 to 1945 with the Spanish Republican heroes who fought for Free France. But it's also the story of Jewish communities in Morocco and Algeria during those same years. And some of the author's favourite chapters, it seems, are those set among the Jewish and Spanish communities in Casablanca. Or Rabat and Oran. Or those set in Pocklington, East Yorkshire, where the Spanish soldiers of La Nueve were quartered before being dispatched to Normandy.
Travel with the Spaniards who liberated Paris…
David Ebsworth says: "I knew about the Spanish Republican soldiers who'd been exiled from Spain to North Africa in 1939. And I knew that, in August 1944, the first Allied troops who fought their way into Paris were Spaniards. Men of Leclerc's Free French units – but Spaniards. The same Spaniards, perhaps, who'd been fighting Franco, Hitler and Mussolini since 1936? That's the stranger than fiction story behind
A Betrayal of Heroes
. But this story also plunged me into the history  of the Jewish resistance in Morocco and Algeria during those same years."

For all lovers of historical fiction…
"On the way," says David, "Telford is befriended by 
Hélène Cazès-Bénatar, the real-life Casablanca campaigner for Jewish refugees. And by Roger Carcassonne, the Jewish Resistance leader who fought in Oran to support the American landings during Operation Torch. It was a chunk of history about which I knew very little. But then I wanted to bring this history to a wider audience. And recreating their worlds in Casablanca and Oran? Or Pocklington? I loved it."
…and lovers political thrillers!
Yet the novel is much more than that. Already highly acclaimed, this is also a cracking good mystery. 
There are plenty of other surprises for readers too, more celebrities jostling with Ebsworth's fictional characters for space on the pages of 
A Betrayal of Heroes
– not just Leclerc and de Gaulle, but performers like Brachah Zefira and Josephine Baker, the actor Leslie Howard, and writers Ernest Hemingway and John Steinbeck among many others.
"David Ebsworth, a terrific storyteller, his passion for his subject and his characters grabs you by the throat." (Elizabeth Buchan, bestselling author of The The Museum of Broken Promises, The New Mrs Clifton and I Can't Begin To Tell You.)
Buying Options